2012 Nissan Frontier Pro-4X 4X4 Crew Cab Review
Half-sedan, half-pickup
10/11/2012
Having driven the 2012 Nissan Frontier Pro-4X myself, I can speak to the fact that this compact pickup, with its barely 5' long standard box, looks like a mouse scampering past the Ford F-150's on the road. Despite its miniature size, my wallet still felt the pain whenever it was time for a fill-up...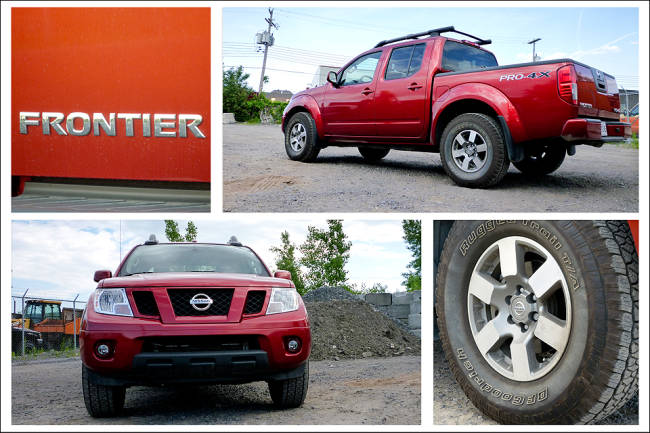 Design version Nissan
I like this truck's looks. Its distinct style is pleasing to the eyes. In my opinion, Nissan's design team has done an excellent job. There is an overall robust impression that is mitigated by the tasteful blending of the different bumper colors with the sheet metal. Goodbye motley-colored plastic panels and overdone chrome-plating! The approach is more sedan than truck, but we are comfortable imagining it in both urban and commercial use. You look at this vehicle as a compact that is as much at home for everyday city driving as it is on construction sites.
With its 4.0 L V producing 261 HP and 281 lb-ft of torque, the Frontier Pro-4X delivers fuel efficiency numbers of 14 L/100km city and 12.5 L/100km highway. These numbers are high for a truck that had only itself to haul around, although it can tow up to 6,100 lbs.
The overall output of this engine is quite reasonable when you compare it with its main competitors. The Honda Ridgeline gets 250 HP out of its 3.5 L V6, while the Toyota Tacoma squeezes 236 HP from its 4.0 L V6. The Chevrolet Colorado cranks out 242 HP from its 5-cylinder 3.7 L engine.
I loved the Frontier's 4X4 drive mode selector. Very simple, a round switch that you turn to make the selection. And best of all, you can switch to four-wheel drive on the move. Not need to stop, no automatic mode that keeps cycling between 2 and 4 wheel drive. Just one big beautiful button!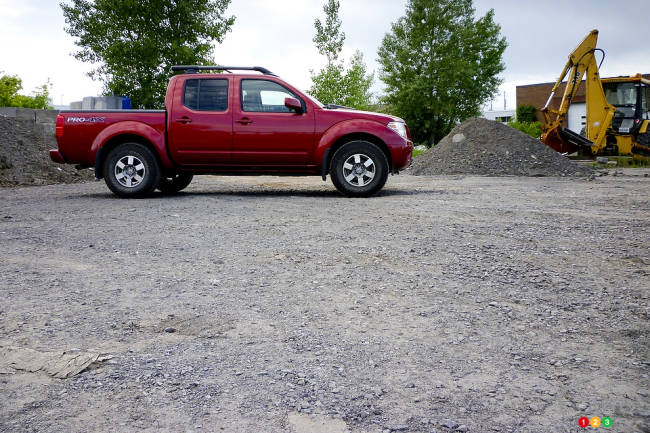 That half-sedan, half-pickup feeling
The suspension is fit for a school bus. Although the front suspension is independent, the rear suspension is of the solid-axle variety. This is what you want when it's time to haul heavy loads...on the other hand, driving around town can become a bit bumpy, although not painfully so. Exactly what you would expect from a small van-type vehicle.
As far as the handling goes, it's all very Nissan: this one toes the line. With its speed-sensitive rack and pinion power-assist steering, you really don't have the impression that you need two full rotations of the wheel to turn a corner. In fact, I found it quite nimble around town.
A Time Travel Machine
It's five years later, and we're still knee-deep in a plethora of cheap plastic. The interior hasn't really changed and the steering wheel's hard plastic finish remains tacky. Control buttons were added to the wheel and a smidgen of finish was added to the dash - but, as far as everything else is concerned, we are trapped in time warp.
Sound damping is very acceptable, making the Frontier as easy on the ears as riding in a sedan. As far as overall comfort goes, it's still 100% pickup truck! The seats are OK, but forget bucket-seats and thigh support! It feels like sitting, backs straight up, on a padded park bench!
The Frontier's Rockford Fosgate entertainment system is of the same variety as those found on Mitsubishi and Suzuki vehicles. Overall, there are 10 speakers and a sub-woofer, way more than necessary for a pickup truck, even with a five-passenger cab. No navigation system in sight, but the Bluetooth option is well integrated into the system, and you'll find this very basic system easy and simple to use...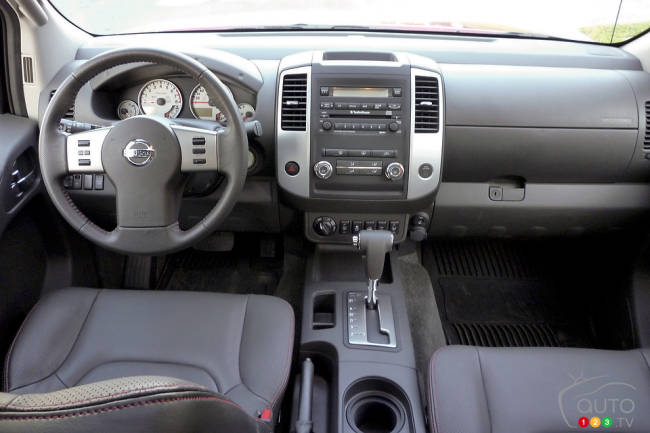 Wheeling and dealing
You can get your hands on a Nissan Frontier Pro-4X Crew Cab for $38,878. Although bigger pickups, such as the Ford F-150, offer more power and space for approximately the same price ($40,299 for the XLT SuperCrew), the Frontier is targeted at a different type of clientele.
In the ''urban hauler'' category, you might want to consider the Honda Ridgeline, with its refined look and similar price range, - Its well-equipped Sport model sells for $37,790. The Toyota Tacoma TRD Double Cab is priced at $35,050.