2012 Kia Rio SX Sedan review
Highs and lows
Great options list: heated steering, rear backup camera, automatic headlights
Active ECO mode that limits takeoffs
Luxury for the masses
10/01/2012
The 2012 Kia Rio offers a sleek new design, silky-smooth ride, effortless power steering, plenty of storage room, and amazing fuel consumption when scooting around in ECO mode. What more could a city-dweller ask from a subcompact?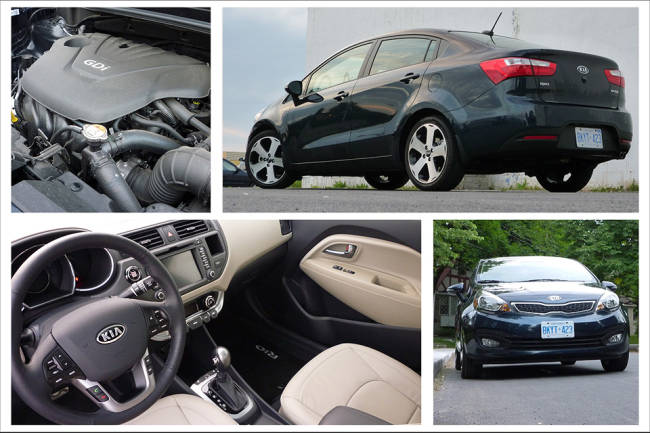 But wait, it gets better. What we have here is an automaker posing as the Robin Hood options. The lifestyle of the rich and famous is now available in a working-class automobile.
This new Kia is dressed to kill. It offers repositioned mirrors that increase the overall viewing area, sporty new headlights and a completely overhauled front bumper design. This new Kia is making a fashion statement which is intended to draw the attention of Chevrolet Sonic and Ford Fiesta buyers, as well as flirting with the 20- to 30-year-old subcompact buyer market.
User-friendly passenger compartment
Additional ''micro-windows'' were added to the front doors in order to brighten up the A-pillar area, along with taller rear-door glass and a ''headrest-less'' rear seatback designed to increase visibility. The extra glass really opens things up, providing an ''airy'' feel for its occupants.
More than just a pretty face
The new 2012 Kia Rio SX equipped with the navigation system will set you back $21,695. This seductive package includes: rear backup camera; smart-key; push-button start; air-conditioned glove- box; automatic windshield defogger; heated leather seats; UV-reduction solar glass; automatic climate control; automatic headlights; Active ECO system; and (hold on to your hats) a heated steering wheel!
While the Kio Rio doesn't offer all the doodads that make a luxury car a luxury car, it has proven one thing: that Korean automakers know what Canadian winters are like! Heated steering wheels are available from other automakers, but we're talking about the 2012 Nissan Maxima at $ 37,880, or the 2013 Ford Taurus Limited at$ 43,499. Kia is a true Robin Hood, saving our precious digits from the horrors of the dreaded pre-work morning windshield ice war and steering-wheel freeze!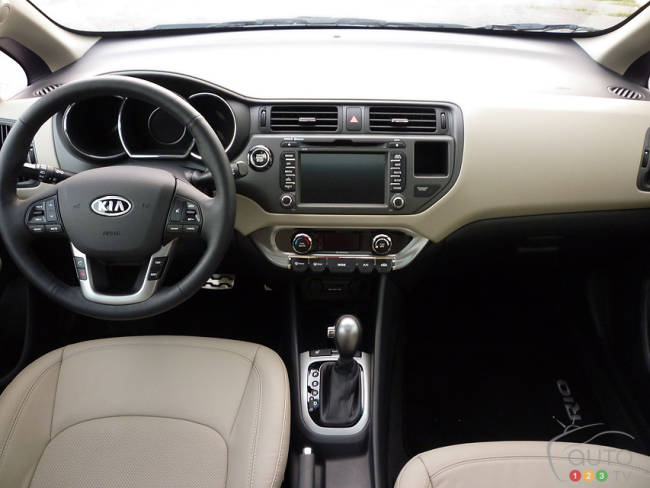 ECOnomizing fuel
Its diminutive 1.6L engine delivers 138 hp and 123 ft-lb of torque, which is OK for driving around town and overtaking highway traffic. Its role in life is to save fuel. The deal falls a little short for us in Active ECO mode. This option is only available with the 6-speed automatic. What is the Active ECO mode's goal? To help you perfect your fuel ECOnomizing habits: no sudden starts or stops, and no supersonic speed-barrier shattering!
If you're anything like me, a little more ''purposeful'' in city-driving mode, you will find the Rio a little slow to respond in these circumstances. Deactivate the Active ECO mode, stop dreaming of those extra kilometres you were going to squeeze out of your last tank refill and zigzag around town with that little additional squirt of direct-injection fuel. The difference is a few percentage points of fuel: 500 km instead of 525 km. I averaged 8.0L/100km during my test.
Don't expect to find the structural rigidity of a Volkswagen or the suppleness of a Subaru suspension in the 2012 Kia Rio SX. However, you will discover that this diminutive package knows its way around. The first thing that jumps out is its electronically assisted power steering. It makes the car a breeze to handle. The suspension isn't its strongest point, but it's supple enough to make the ride enjoyable.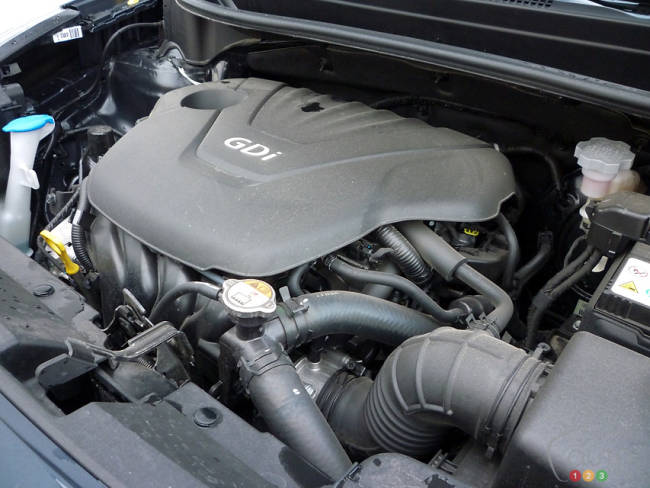 Subcompact market
You won't find heated steering wheels in the subcompact market. If you were to benefit from the top items listed in each manufacturer's options list, you would need to note:
$23,499 for the Ford Fiesta SEL which offers a smart-key, heated seats, best-in-class fuel economy, and a great automatic gearbox;
$18,249 for a Hyundai Accent GLS with heated seats, automatic climate control, 16" aluminum wheels, power-operated sunroof, and a strong 1.6L fuel-sipping engine (the same engine as the Rio);
$22,745 for a Toyota Yaris SE;
And finally $22,970 for a Chevrolet Sonic LTZ, equipped with a turbo-powered engine mated to an automatic gearbox.