2012 Hyundai Tucson Limited Review
Highs and lows
Handles well
Ample space
Great looking
Bright interior
Pretty trucky, which isn't necessarily a bad thing
If I drove this, I would keep on truckin'
05/31/2012
Throughout my week in the 2012 Hyundai Tucson, it occurred to me that I like a good trucky truck as much as the next guy.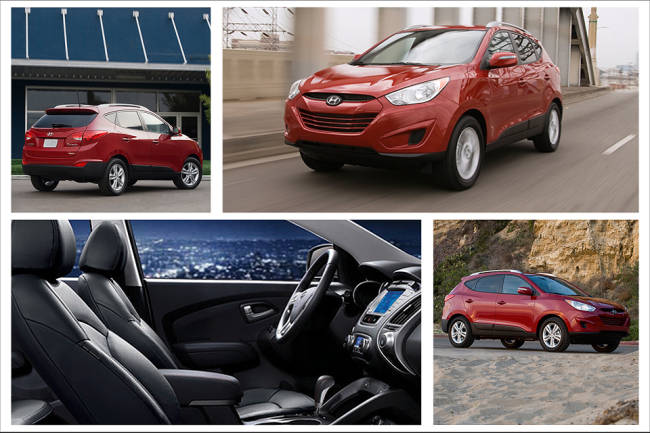 There's something primal and bracing about bouncing around, stereo cranked, swallowing road ruts - as long as it's not too much. I don't want my butt off the seat. But a little spring in the suspension and a sturdy country feel is not such a bad thing.
Although I don't think of Korea when I think of hayseed and corn fields, the 2012 Hyundai Tucson has a country feel to it, in spite of its sophisticated looks. Reviewers love to report that SUVs and crossovers have car-like handling, and frankly this one doesn't. It handles like a truck. But I mean that in the best possible way.
Now in its second generation, it strikes a lively balance between fun-to-drive, rugged country capability and equally fun-to-drive urban (well, suburban) friendly style.
I can't say I would have guessed it was German-engineered if I didn't know, but its driving dynamics have certainly sharpened with time. I admired its turn-in abilities, flat cornering and brakes that grab hard without sending the nose too far down. Steering was mostly just fine, but at higher speeds seemed to require an undue amount of correct. Easily handled, but mildly annoying.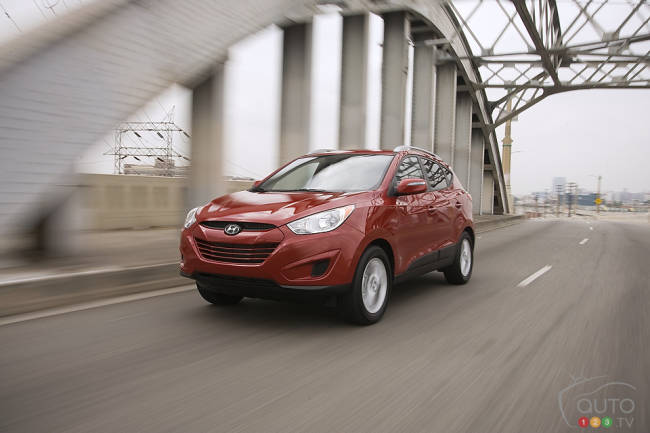 Power from the 2.4L inline-4 that now powers all Tucson trims above the base-level L (it gets a 2.0L) was average for the class, and fed nicely through a 6-speed automatic transmission that lets you shift manually, should you ever have a hankering for such a thing in a vehicle like this.
An ActiveECO mode lets you improve fuel economy by up to 7%, but I found it offputtingly affected response. Hyundai says you can average 8.7L/100km out of it and I managed a close 9.
The all-wheel-drive model operates in two-wheel mode unless you tell it otherwise, which I did on one particularly sleety, awful day, to laudable effect. I drove on with confidence. You can also lock it up 50/50 when you need to. It has a surprisingly tight turning radius that also helps lend it some sub/urban credibility.
The "fluid sculpture" design succeeds unequivocally. It looks good but not show-offy from every angle; once again the word "balance" is called to mind. It's masculine without being aggressive, sculptural without being pretty. A few nice touches of brightwork on the grille and door handles give it an upscale feel. Including inside, where a roomy cabin is plenty bright and well laid-out.
Seats are nicely designed if a bit flat, and the second row and cargo area sufficiently spacious for real grown-ups with real life stuff to do.
I quite like the modern-looking dash design, helped along by some judicious touches of chrome and brushed metal. Smart-looking gauges and a nifty air vent design (sort of reverse brackets just beside the center console) are appreciated.
My Limited tester has a starting price of $32,349, which gets you some particularly juicy goodies, like a panoramic sunroof and 18-inch alloys, but even the $19,999 manually equipped L ain't bad, with air, AM/FM/CD/MP3 (does anyone actually listen to CDs anymore?), ESC, TCS, iPod/aux input jack, trip computer, downhill brake control, hill assist control. You don't have to move up much (to $22,899 for the GL) for heated front seats and Bluetooth.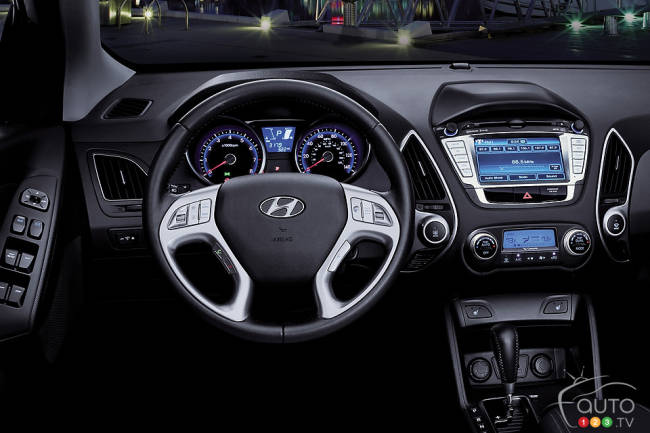 On balance, a nicely priced, nicely packaged, better-than-nice option for city slickers and country bumpkins, and everyone in between. And it's got what every vehicle I would even consider buying must have - a discernible personality.