2012 Hyundai Genesis 3.8 Sedan Review
Highs and lows
Quiet, smooth
Luxury for thousands less
Hyundai goes "modern premium"; takes aim at top players
06/07/2012
"In the past 10 years, we have been very successful in building an image for quality. But we want to be a main player in the luxury segment as well - without disregarding our small cars"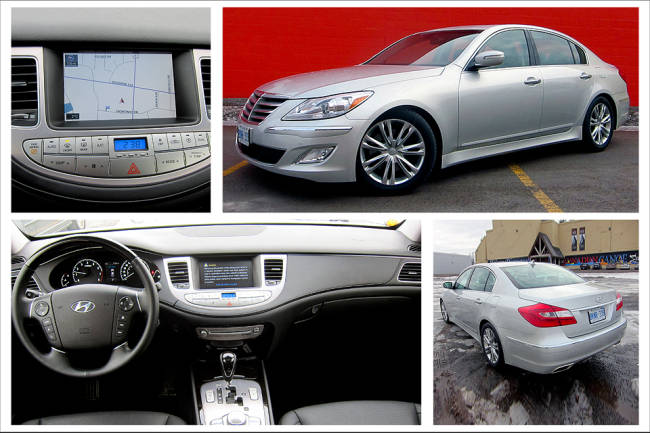 Addressing a group of visiting Canadian auto media recently at the Hyundai Global Headquarters in Seoul, Korea, Won Hong Cho, Executive VP and Chief of Marketing, outlined a new global strategy that will redefine the brand as "modern premium."
We're long past being surprised by Hyundai's ability to fulfil lofty promises. Over the last half-decade, the Korean juggernaut has destroyed the Japanese stranglehold on the affordable car market to become the benchmark brand in terms of style and quality. Now they're applying that same philosophy to a segment traditionally dominated by the German, and to a lesser extent, Japanese marques.
Introduced in 2007, the Genesis was Hyundai's first foray into the luxury rear-wheel-drive segment. Unfortunately, it received a lukewarm welcome with disappointing sales. Esthetically handsome if unremarkable, the upper-scale Hyundai was dynamically rather soft and spongy.
Returning for 2012 with a more defined and chiselled exterior, the 2012 Genesis sports a new fascia, sportier side skirts and jewel-like headlamps bisected by a swooping LED strip.
Across the lineup, the Genesis boasts more powerful, fuel-efficient engines and a standard, in-house-developed 8-speed transmission. Aside from adding the V8-powered R-Spec performance sedan, Hyundai also chose to endow its 3.8L V6 with some additional ponies, up 43 horsepower to a total of 333. Torque gets a 27 lb-ft boost to 291.
Inside the well-crafted cabin, you'll find all the requisite cosseting expected in a premium sedan. There's plump, fragrant, stitched leather, heated steering wheel, soft-touch materials, beautiful ambient LED lighting and a 17-speaker Lexicon surround-sound system that's positively celestial cranked up to 11. For once, rear passengers don't get short shrift : the back seat's not only roomy, it's heated too.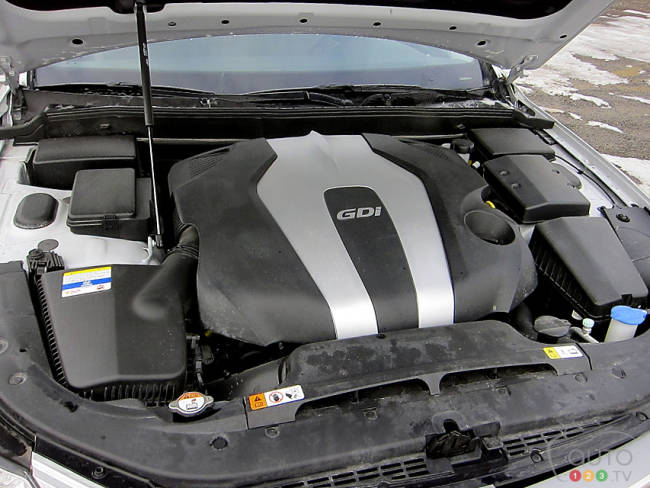 Located on the centre console, the infotainment control appears swiped from BMW and Audi - but is simple to use. Likewise the attractive, Benz-inspired centre stack.
The cabin has the sort of acoustic hush that comes from plenty of insulating and sound-deadening materials, and doors close with a reassuring "thud."
The plump seats however, left me feeling perched rather than supported. Perhaps the engineers overestimated the breadth of our well-fed North American backsides, as the platter-like seat bottoms could use a lot more side bolstering.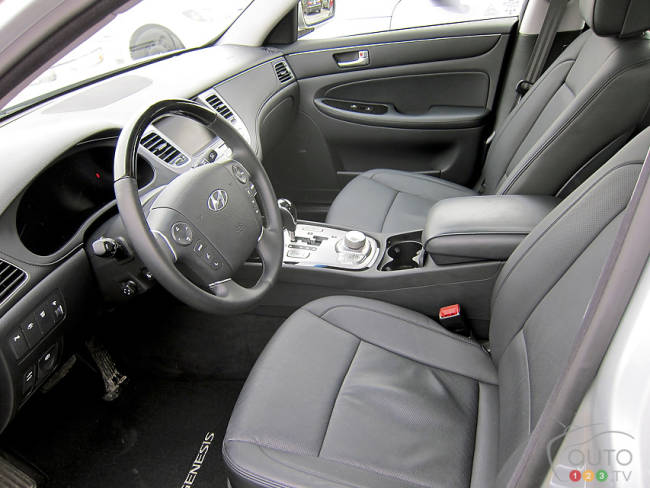 The V6 engine is impressively smooth and powerful enough that there few compelling reasons to upgrade to the more expensive V8 ; however, the 8-speed transmission hunts for gears during passing manoeuvres. Evidently, it has the capability to skip shifts it considers unnecessary in the quest for fuel efficiency.
The console-mounted gear selector allows the driver to auto-shift, but steering-wheel paddles would have been a nice touch. The steering itself could be more communicative; there's little feedback. But that's probably not a big deal in this segment, which is more concerned with quiet comfort than driver engagement.
Handling and balance improve substantially with the addition of stiffer springs and a larger rear sway bar. Cornering is a lot flatter thanks to the suspension overhaul, and while the ride is firm and absorbing for the most part, it displays some harshness over rough pavement.
The Genesis is quiet and composed, but instead of the sporty agility inherent in most German-bred sedans, it's closer in character to those from Lexus and Infiniti.

If driving the Genesis didn't set my pulse racing, I nonetheless found it easily inserted itself into my lifestyle with its tomblike quiet and extensive list of features. Thanks to the aforementioned rear seat space and cavernous trunk with rear seat pass-through, the Genesis easily accommodates both passengers and cargo.
Parking is a cinch thanks to the 8" graphic display that doubles as a rear back-up camera. Notable too are the adaptive, automatic levelling headlights, audible lane departure warning, heated mirrors with integrated turn signals and, most appreciated in our often foul and frigid climate, a heated steering wheel.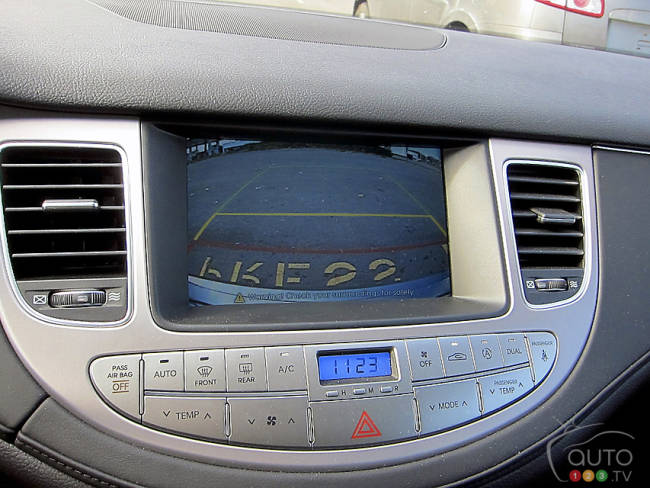 Speaking of which, rumour has it there's an AWD system in the works, but its current unavailability will probably deter some Canadian buyers looking for that added measure of winter safety.
Beating the Germans at their own game takes more than technical expertise and the desire to be No. 1. There's an essence inherent in vehicles created by those who also love to drive that's missing in the Genesis.
Beautifully engineered and finely crafted, the Genesis, like its Japanese competitors, provides a high-tech disconnect from the driving experience, while the German offerings satisfy those who revel in its passion.
Yet, its clean lines and level of quiet comfort will please those looking for unobtrusive luxury with an extra dose of power. And not to mention a price tag that's thousands less than its competitors.