2012 Honda Fit LX Review
Highs and lows
Mechanically reliable
Low depreciation
Roomy interior space
Choosing simplicity
10/15/2012
In the realm of the sub-compact, the Honda Fit will always be a queen for me. Its decent resale value, unbeatable Honda engine and its "go-anywhere" good looks are all qualities I associate with the brand. With stingy gas consumption and well-sorted mechanicals that make it a pleasure to drive, the Fit LX does, indeed, boast many assets. That being said, it will still leave some fans of the latest hi-tech gadgetry feeling somewhat dissatisfied.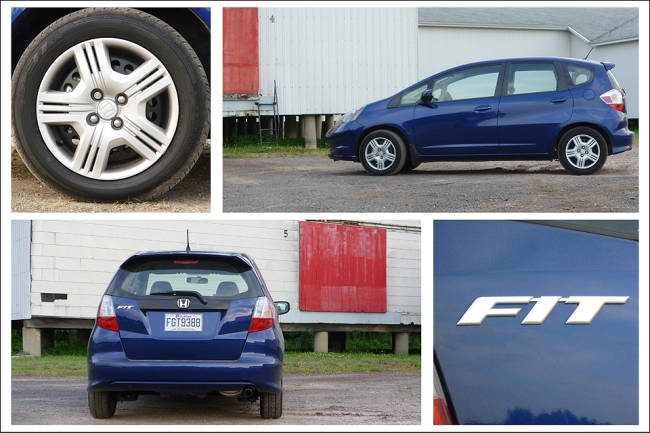 Small pleasures
The lively little 1.5L engine produces 117 HP and 106 lb-ft of torque. That may sound modest, but makes perfect sense as the driving force of this sub-compact, mainly meant for city driving. Although the VTEC system's work is discreet and is only felt when the engine exceeds 6,000 rpm, aficionados will certainly appreciate the extra kick, again, something appropriate to the brand.
The 5-speed manual transmission is fantastic with great response and excellent engagement. It makes driving a joy. As for the stickshift, I've experienced smoother shifting on earlier Honda models. Still, although you can't change gears with your little finger, it's in line with the current market, and remains flexible and easy to use.
I got an awesome fuel economy of 5.8 L/100km. But I have to say that this was in summer and with not much use of the A/C. Nevertheless, vehicles in this same category list consumption rates that generally fall somewhere between 6.5 to 7.5 L/100km.
This little beast's suspension stays true to the manufacturer's mantra, namely, very clinical. Mind you, we're not talking Honda Accord level luxury and sweetness, but the ride is pleasant nonetheless. The suspension is giving, without being too soft, and hunkers down, as well as it is able to, when cornering; the Fit doesn't pretend to be a sports car. The electric rack and pinion raises no problem and steering is honest and straight.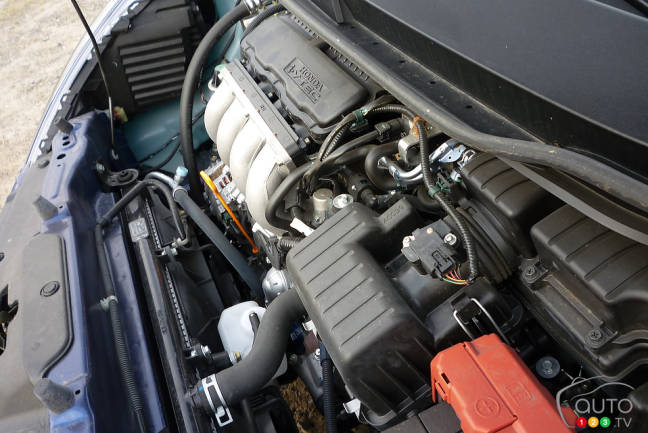 A beauty, both inside and out
This is a small car - nothing surprising in the world of sub-compacts. Unlike the Toyota Yaris, interior sound damping is good. At least you don't imagine yourself inside a rattling cookie tin as you barrel along.
Better yet, there's plenty of room! With a high roofline and lots of headroom, seating is generous and comfortable. Excellent legroom came as a pleasant surprise to both front and backseat passengers. I remember a much tighter squeeze in a Chevrolet Sonic and I'm only 5'3".
There's nothing complicated about the Fit's cabin. Seats are neither heated, nor electric. And the steering wheel is not heated either (unlike that of the Kia Rio SX). Steering wheel buttons have been reduced and no 25 wiper functions, as in the Ford Fiesta. Controls in the Fit are simple and uncluttered...all part of an attractive cabin that includes a 3-spoke steering wheel with matte metallic finish reminiscent of the one found in the Honda Civic SiR.
As for storage place, you'll love it: the rear seats fold away for a flat floor configuration. For me, that means no more tearing my hair out finding space for boxes, grocery bags or stashing equipment from the local hardware store.
I liked the excellent visibility, thanks to the enormous windscreen. Plus, the "A" pillar windows let in a lot of light and give great all-round sightlines. Where you get a little lost is getting a good view out the rear window - a common problem in many hatchback models.
At Honda, user-friendliness is on top of the list: the back seat headrests can be lowered all the way down, becoming perfectly integrated, flat with the seat tops, providing a much better view out the back. That's a step ahead of Ford whose headrests sprout like mushrooms in the Fiesta!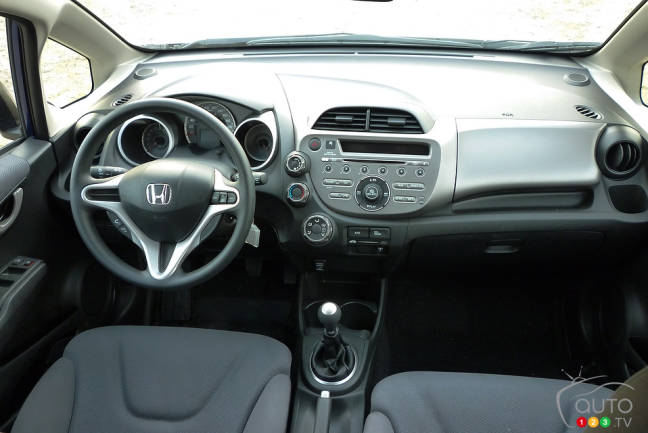 It's time for long-term thinking
You'll find the 2012 Honda Fit LX manual offered at $16,980. That may seem less expensive than competitors who also offer heaps of options, including a sunroof, keyless entry, heated seats or sound systems to rock your socks off. But it's simply not the case.
Here's what the 2012 Honda Fit LX's competition goes for: the Ford Fiesta SE at $15,999, the Hyundai Accent GL for $15,599 $ and finally, the Toyota Yaris at $15,990.
But keep in mind that the Honda Fit's resale value is superior to that of the Hyundai Accent and the Toyota Yaris.