2012 Fiat 500 Lounge Review
Highs and lows
The Fiat 500 is all about charm, cuteness with a host of safety features. Being Italian and a blast to drive makes it always welcome in my driveway.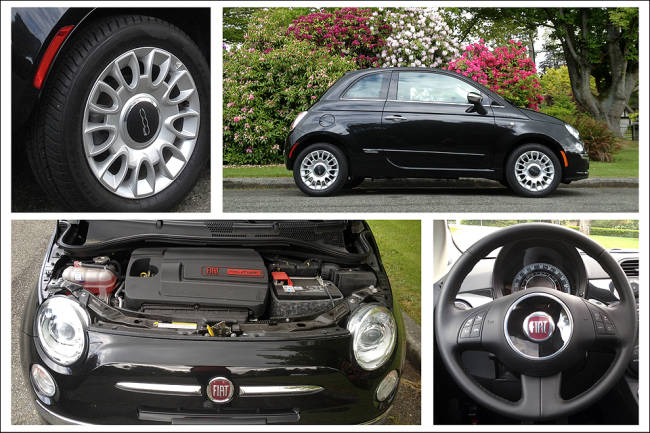 It has been a while since a vehicle has come on the automotive market with such cuteness and charm. And while you could argue that most of the subcompacts these days embody such characteristics, there's one that takes the top spot in my books. That's the 2012 Fiat 500.
Introduced to the North American market in 2010, these tiny two-doors are just so cute. It makes me want to run up to it and pinch its little cheeks, or in this case, headlights! I'm not entirely sure why I gravitate to this vehicle so much, but I do and I'm excited about it.
What I think helps set it apart from the subcompact crowd is the ability to customize it and make it your own. There are over 500,000 combinations in which to personalize these cars and that's quite appealing. With 14 exterior colours to choose from and a host of accessories, there's a possibility that your 500 will be unique in the country, maybe the continent. For someone who likes to deviate from the norm and set themselves apart from the crowd, this is one fashionable and fun way to do so.
One engine
Across the three trims of 500 available - there's the Pop, Sport and Lounge - each are powered with the same fuel-efficient 1.4L, 4-cylinder MultiAir engine. Sorry, no customization available here! Its output is of 101 horsepower and 98 lb-ft. of torque.
You're definitely not going to be winning pink slips at the races with this kind of vehicle, but it proved to be adequate in the city and on the highway. Not to mention fuel economy results are quite favourable. With the standard 5-speed manual transmission, its estimated consumption is 6.7L/100km in the city and 5.1L/100km on the highway. And with the optional 6-speed automatic, it's 7.4L/100km in the city and 5.7L/100km on the highway.
Although there isn't a whole lot of power under the hood, to give the 2012 Fiat 500 a little extra zest, there's the 'Sport' button. For those models equipped with the 5-speed manual transmission (my test Lounge had this feature), pushing it will tighten the steering and the engine will become more responsive when pushing down on the accelerator. Note that your fuel economy results can be affected. There's also a 'Sport' button on the automatic transmissions, so you're not left out from all the fun.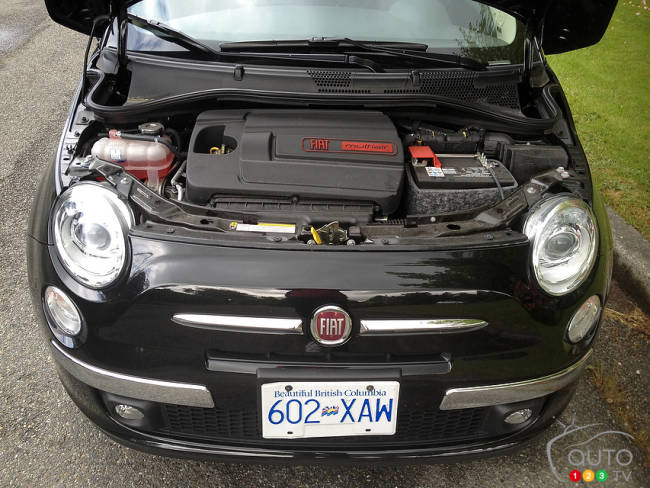 Fun on the inside
Speaking of fun, because its size is so easy to manage, it makes driving just that much more pleasant. The visually stimulating cabin offers various textures and colours and if you're looking for a centre stack and dash that's full of life, you'll find it in the Fiat. Often times, subcompact interiors will be swimming in a sea of monotone colours that lacks inspiration. Despite the Lounge's cabin being draped in black, the metallic accents and shiny plastics used gave it that extra pop of personality. Not only did it look good, it was highly functional too.
On the flip side, its cabin, due to its compact nature, does have a few drawbacks, namely ingress to the rear seats. Even when the front seat is folded down, it still requires a fair amount of effort to climb in the back. And when back there, there isn't a generous amount of head room for taller individuals. But I would counter that by saying most two-doors have these problems so it's not an uncommon issue.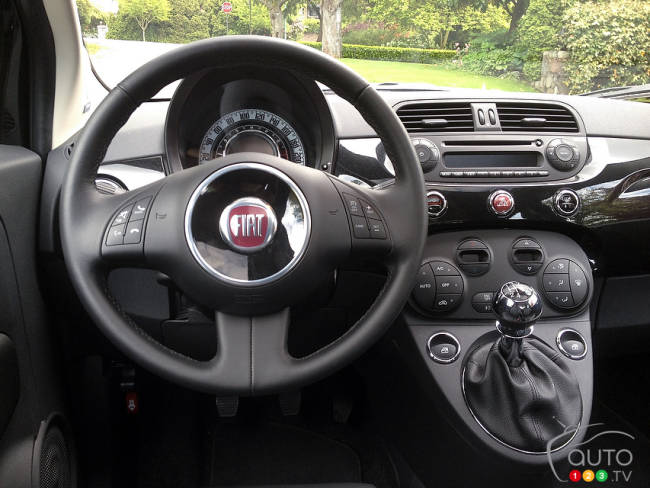 Easy to drive, and park
Working in its favour is that the four-seat vehicle can fit into just about any parking spot-a welcome feature especially in urban areas - and can navigate through tight areas without breaking a sweat. Its responsive and lightweight steering can be thanked for that. Additionally, it has a stable stance when driving at highway speeds, a characteristic that I can't say all its competitors have.
Despite its diminutive size, the Fiat 500 is 'big' on safety. There are 35 safety and security features equipped on each model to make sure you and your precious cargo make it to your destination in one piece. Included on that list is Electronic Stability Control (ESC), Hill Start Assist and Traction Control, 4-wheel Anti-lock Disc Brakes (ABS) and a Tire Pressure Monitoring System just to name a few. Furthermore, there are seven standard airbags included throughout the cabin.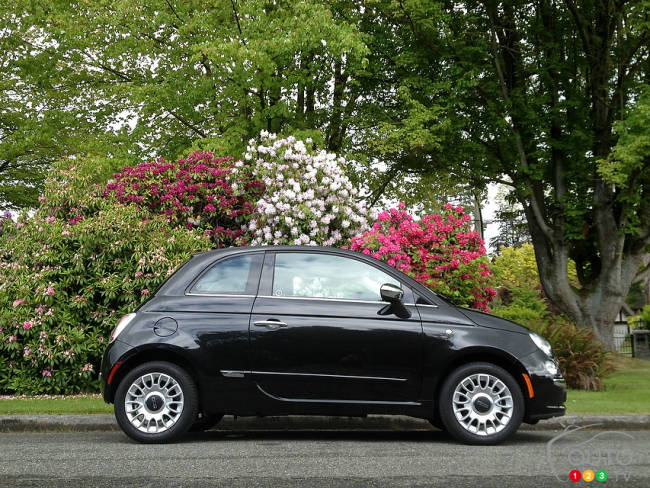 Always charming
A vehicle that has charm, cuteness and a host of safety features is always welcome in my driveway, especially if it has Italian flair and is a blast to drive.
The 2012 Fiat 500 Lounge has an MSRP of $19,500.