2012 Dodge Journey R/T AWD Review
Highs and lows
Nice Pentastar V6
Clean, contemporary looks
Comfortable second row
Fit & finish not impressive in spots
Rattly and whistley
Third row is tight and cuts way down on cargo space
Is a Journey in your family's future?
05/10/2012
Consumer taste, like the proverbial pendulum, swings. Anytime something (or someone for that matter) becomes hugely successful, there is always a backlash. In the car industry, it often boils down to consumers not wanting to drive what their parents drove. Back when I was a lass, our parents drove station wagons.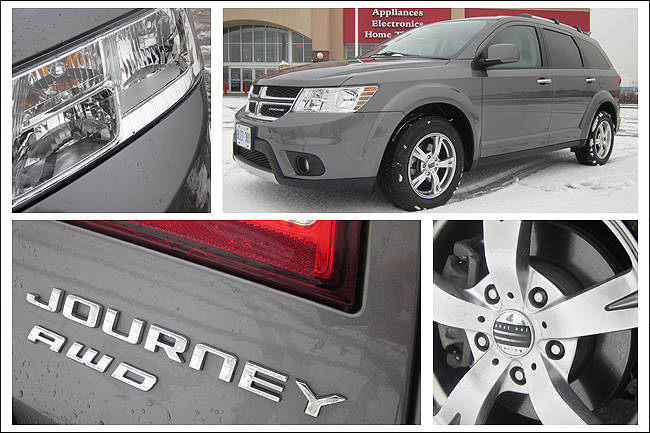 We grew up and wanted something different, so we bought minivans. This generation is all grown up and they want - well, apparently they want cramped third rows of seating jammed into what would otherwise be spacious, comfortable SUVs.
In a segment now more crowded than Mongkok, the 2012 Dodge Journey seems to make its case on two fronts: being "Canada's most affordable midsize crossover," a point blown out by my tester's $35,045 sticker, and lots of family-friendliness, which I'll (mostly) grant it.
Start with safety
Named by the Insurance Institute for Highway Safety as a Top Safety Pick, and granted four out of five stars overall by the National Highway Traffic Safety Administration, it's off to a pretty good start. Throw in active head rests, advanced multi-stage front airbags, side curtain airbags for all rows, driver's knee blocker airbag, traction and stability control, brake assist, electronic roll mitigation, rear park assist system, and tire pressure monitoring, and you can put a check-mark next to safety.
With its $30K+ price tag, it's no bargain, but offers OK value compared to competitors like the Chevy Orlando, Ford Escape, Hyundai Santa Fe, and Kia Sorento. For a larger family, it's nicely sized on the outside with generous cabin space inside and, at least with the third row folded, lots of cargo space.
With the third row in play, cargo space is less than generous, but typical of its ilk and sufficient for a week's worth of groceries or a weekend's worth of gear, provided you're not the sporting sort. We're talking underwear and toothbrushes here.
The second row in my tester featured built-in boosters that will make life with littl'uns easier, and were well-padded for grown-up posteriors. But the very padding that makes them comfy also means that they're not easily moved aside for third-row access. They do feature in-floor storage, which certainly would come in handy with seven on board. They also slide fore and aft. I'm happy to give up the Orlando's handier tumbling mechanism for comfort, but then again, my kids are probably older than you.
Throughout the interior, I didn't get any overt sense of its lacking quality, until I tried to move the second row seats out of the way, and watched an alarmingly large gap open at one rear corner of the seat. I peered in to see some inner workings no consumer should ever see, then smacked the cheap plastic hard to force it back into place.
Not good.
And although I liked the ivory leather interior, and loved the red top-stitching, with small children it would be mere moments before it was besmirched beyond redemption.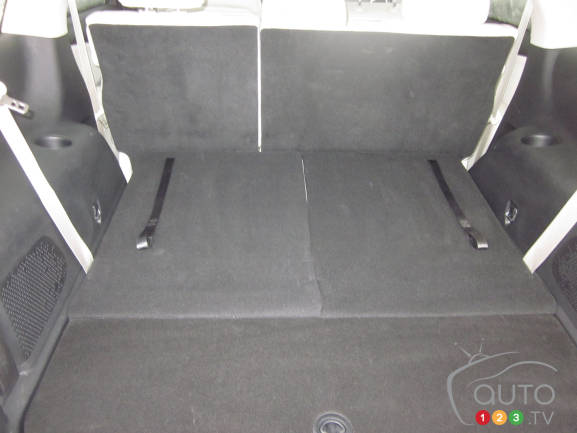 Too much pedal play
It was also a bit squeaky and whistley here and there. The brake pedal groaned, and both pedals had more play than I would have liked.
Its low driving position and high beltline combined to make me feel like a kid myself, not a quality I enjoyed, but once underway, handling was OK if not smashing. No complaints about the powerplant, a 3.6L Pentastar V6, which used its 283 hp and 260 lb-ft of torque to power me perfectly pleasantly about town and on the highway. I never did get around to filling 'er up with people, though. No complaints, either, about the 6-speed automatic transmission.
The R/T's sport-tuned suspension does just enough to enhance response without making the ride too jarring for a family-hauler. Smooth performance - check.
Ergonomics were decent, and I liked its simply laid out centre stack, with its easily grabbed knobs. I found the Uconnect touchscreen interface simple and intuitive, too, so high marks for user-friendliness all around.
I appreciated the contemporary dash and gauge design, as well as the squared-off, manly exterior - in fact, if I had to pick a word, I might tar the whole thing with a "masculine" brush. Masculine looks, masculine dimensions, and masculine handling. I'm not a girly girl (nor any longer a "girl" at all for that matter), but did rather all come off as masculine somehow.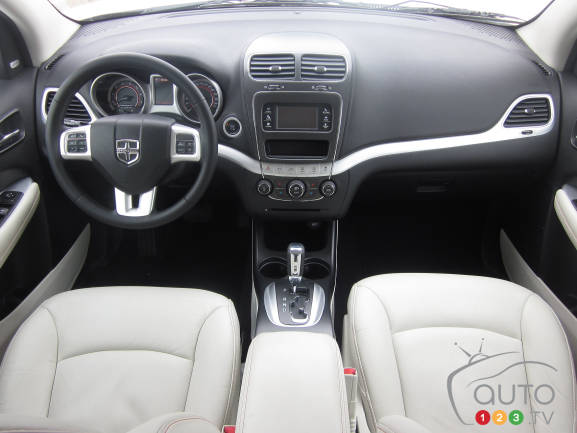 It's a big improvement over the previous, pre-2011 model and, for a price, comes equipped with about everything you and your five children could need, as long as you don't need tons of room in the third seat and superior fuel economy - I averaged bang-on 12L/100km compared to its EnerGuide ratings of 13.0 in the city and 8.4 on the highway. Meh.
The Flexible Seating Group that made it so family-useful cost $1,475 and included the third row of seating, Tilt 'n' Slide function for the second row, rear air and tri-zone temperature control. The other options on my tester were a $225 trailer tow prep group, booster seats for the second row ($200), Uconnect voice command with Bluetooth, a no-brainer at $300, and pretty 19" aluminum chrome-clad wheels for $600.
With a starting price of $30,745 for the R/T with AWD, you're already out of "cheap" territory anyway, so you may as well go for it.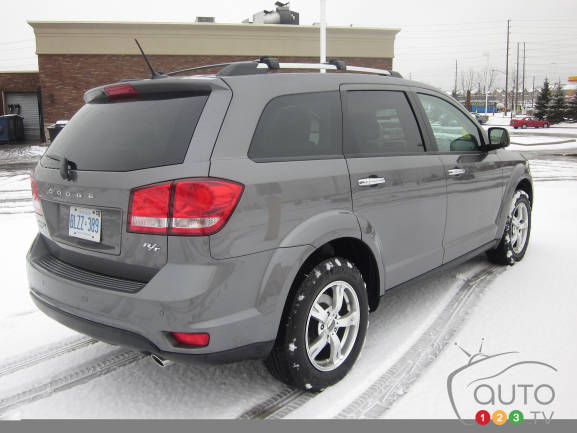 Family