2012 Chevrolet Cruze Eco Review
Highs and lows
It is what it is – and that's a good thing
07/19/2012
Eco model delivers hybrid-like fuel economy and has plenty of room to spare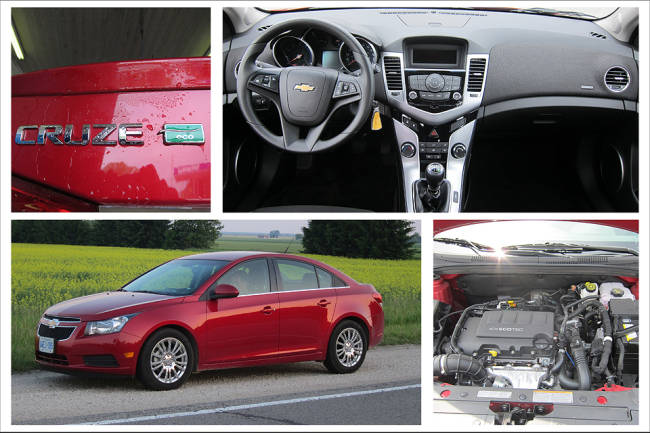 Einstein once said "if you judge a fish by its ability to climb a tree, it will live its whole life believing that it is stupid". I couldn't help but think of that quote after the reactions of several of my enthusiast friends towards my 2012 Chevrolet Cruze Eco tester.
"Sluggish" they called it, asking me if it was a "prize, or a penance".
Now I don't recall any marketing spots boasting of its on-track prowess, no artful snaps of it devouring the Nurburgring, no Forza-clones claiming virtual podiums.
That's not what this car is about.
The Cruze Eco is a pleasant compact car, with a thoughtfully-crafted interior, that through design and engineering, manages to deliver impressive fuel economy.

Since its debut in 2010, the Chevrolet Cruze has been a runaway success - winning Canada's Car of the Year, and quickly establishing itself as a leader in this crucial segment representing 22% of Canadian car purchases. It was a strong indication that the re-invented General Motors was on the right track.
An important product globally for GM, the Cruze rides on the Global Delta platform with only moderate suspension differences for North American models.
Aerodynamically enhanced Eco
Skyrocketing gas prices have forced consumers to take a second look at alternative vehicles like hybrids. The problem is they're pricey. It would take many liters of fuel to justify the initial buy-in.
Fortunately, thanks to great technological advancements in the efficiency of traditional internal combustion engines; there are a few gas-miserly vehicles on the market that offer a compelling alternative to expensive hybrids. This is one of them.

Aerodynamic shaping and hours in the wind-tunnel have gone into the "Eco" Cruze; a massaged, smoothed and lightened version of the regular Cruze, that boasts a fuel economy rating of 5.2 L/100km highway and 7.8 City.
A variation of the LT model and powered by the same turbo-charged 1.4L engine generating 138 hp and 148 lb. ft. of torque - the Eco features numerous aerodynamic enhancements, including lightweight aluminum wheels, ultra-low rolling resistant tires, a lowered ride height, underbody cladding and an "aero shutter" that closes up the grille's turbo-cooling air inlets at high speed to lessen wind resistance. Lighter than the LT model by 97 kilograms, the streamlined Eco is also 10% more aerodynamic.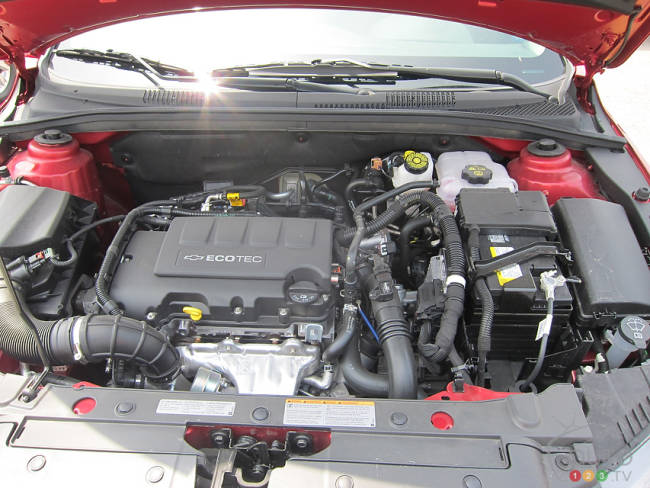 Understated, yet attractive styling
Although the styling is somewhat plain, the Eco is attractive in a rather understated way. Other than rear badging and the distinctive multi-spoke wheels, there's nothing to distinguish the fuel-sipping Eco from the rest of the Cruze lineup.
Inside, the cabin shows an attention to detail that's a pleasant surprise for this segment. There are plenty of hard plastics, but they're molded into in a sweeping twin cockpit with a two-tone color scheme - the overall look is strongly reminiscent of the more premium Buick models.
During my test week, I made several road trips into the big city - a three and a half hour round trip - and found the cloth-covered seats firm yet supportive. A journey up through Mariposa County proved it to be great road-trip car - my passengers praised its comfort and quiet ride. And we all appreciated the easy-to-use OnStar turn-by-turn navigation - an absolute godsend when discovering we weren't as sure of our route as we thought we were.
The Cruze is a compact, yet it feels more like a mid-size - accommodating four passengers in relative comfort. The cabin is wide, and there's plenty of leg and headroom up front - rear seats are on par with competitors. Trunk space, at 436 liters, is above average for its segment. Rear seats fold down to accommodate long packages.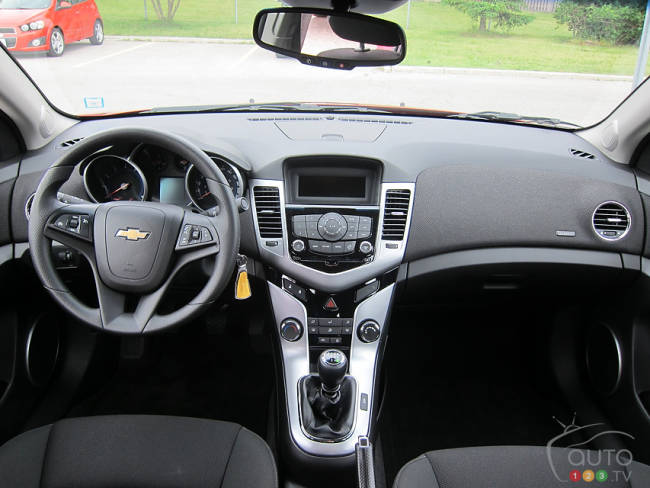 Driving Impressions
For a compact whose main purpose is to deliver outstanding fuel economy, the Cruze Eco exhibits nimble handling and suspension that absorbs harshness and road imperfections. The result is a ride that's surprisingly athletic for its class with none of the mushiness or body roll expected in an economy car.
The six-speed manual gearbox is easy to operate - the shifter is the antithesis of notchy and the clutch has a smooth, easy takeup. Enthusiasts will no doubt find 5th and 6th gear response a bit sluggish, but that's where the Eco delivers its best highway fuel. In fact, the Eco is really happy to loaf along in the low rpm range. It would be a really easy car for those just learning to drive stick shift, since it's very forgiving of being in the wrong gear.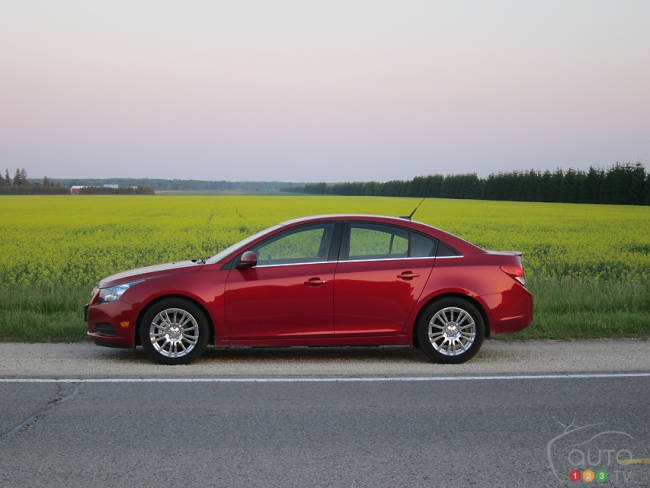 A green "shift" light on the dash encourages the driver to keep the rpm within the most economical fuel range. This does mean a lot more work, but I found the payoff to be worth it: I averaged 6.8L/100 km in a week's worth of mixed driving.
Opting for an automatic transmission kicks the price up by $1,450, and fuel consumption numbers rise slightly.
With a base MSRP of $20,220, the Eco is more expensive than competitors Elantra GL and Civic LX, both of which offer similar fuel savings. But while those cars fit within the "small car" definition, the Cruze Eco compensates by delivering the look and feel of a big car - in a small package.